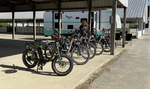 Essential Ebike Accessories - An Ebike Owners Must Have Guide: Updated for 2023!
You Did It.
After months of research, asking everyone their opinion of which ebike you should buy, and test-riding the different models you were lucky enough to get your hands - or more importantly, your butt - on, you found that perfect ebike.
Congratulations!
But, you've only just begun. Now comes the really hard part: which ebike accessories are you going to need to fully enjoy the ebike lifestyle? Especially, when considering... Comfort & Safety, Security & Storage, Travel & Maintenance, and Riding in Style! 
This is our list of essential ebike accessories every ebike owner must have. But you've probably already guessed which one is everyone's favorite!
Based on Your Feedback: We've updated our guide to include amazing new ebike accessories for 2023!
FTC Disclaimer: This website utilizes Income earning affiliate links. 
When it Comes to Comfort, it's all About that Bass.
Updated for 2023:
Selle Royal Respiro Relaxed Unisex Saddle >>
Complete comfort from urban commuting to leisurely rides. Respiro is a breath of fresh air designed for your ebike escape! You'll enjoy those refreshing, cool rides thanks to Respioro's unique Ventilation Channel.
View our entire lineup of Selle Royal Saddles >>
Compare to:

Rad Power Bikes Comfort Saddle >>

Just imagine that extra layer of soft, supportive memory foam padding, and elastomer spring rails supporting your backside as you glide over those bumps in the road.
Also:
Cloud-9 Cruiser Select Airflow Saddle Seat >>


Updated for 2023:
Kinekt Active Suspension Seatpost >>
Maybe its not just the saddle? Kinekt suspension seatposts can help smooth out your ride, no matter what type of ebike-escape route you choose. Easy to install and adjust, All Kinekt seatposts come with a range of springs. Match your weight and preferences to custom-tune your ride feel!
Compare to: 
SR Suntour SP12 NCX Seatpost >>
27.2 mm x 400 mm, 50 mm of travel, Spring is rated for riders between 140-180 lbs.
Also:
Dropper Seatposts >>
Updated for 2023:
Pearl iZUMi Quest Shorts >>
Your Battery may last 45 miles, but who really wants to be on an ebike for that long? You do, of course! That's why you bought the dang thing - not to go faster, but to stay out longer and ride farther. Better make sure you have all of your backside covered!
Compare to:
Men's Cycling Chamois Shorts >> 
Chamois underwear liners? But they feel so good with their ultra-breathable RideTech mesh fabric - we might be wearing them right now! Designed to be soft and comfy, wicking and quick dry, with gel insert technology, 3D foam construction, incredibly breathable stretch fabric and silicone bead leg elastic.
For the Gals, only:
Machines For Freedom Women's Cycling Bibs, Shorts, and Pants >>

There's Safety in Numbers, and in Being Prepared.
Updated for 2023:
Sena R2 Aerodynamic Smart Communications Helmet >>
The Sena Smart Communications Helmets are a game-changer - allowing up to 4 riders to communicate hands-free via bluetooth! The Sena R2 EVO's with mesh technology are great for larger groups. We love them so much, not only do we use them in our ebike test-ride consultations, we stock them in our ebike shop so our community can shop local!
Compare to:
Nutcase Helmets >>

We also love our Nutcase Bike helmets! Our brain loves their MIPS technology, and our soul loves that its a piece of art. These helmets make us smile, each and every time we put them on.
Also:
Thousand MIPS Helmet >>
Two mottos we literally live by:

1. See and Be Seen. 2. All The Gear All The Time. (ATGATT)
Updated for 2023:
Rad Mirrors >>
When we say "must-have" this is what we mean! These large rear-view mirrors fit any handlebar with an outside diameter between 21-26 mm. Rad's mirrors are designed for left-side mounting but can also be mounted on the right side. 
Compare to:
Mirrycle Handlebar Mirror >> 
The Mountain Mirrycle mirror is a 3" round, convex glass mirror with a wide field of view. The mirror is adjustable to any viewing angle and mounts in minutes (includes wrench).
Also:
Selfie Helmet Mirror >>

Updated for 2023:
Zephrr® Screaming Yellow Barrier Vest >>
What screams: "SEE ME" better than a Screaming Yellow Vest? Pearl iZUMi offers the very best riding gear out there! From their Zephrr® Vests and Jackets, to their Attack Jerseys and Quest™ sleeveless Jerseys and Jackets, we love their ELITE Escape Convertible Jackets the best!
Compare to:
Specialized Reflective Jackets and Vests >> 
Specialized has been in the biking business since 1974. It's safe to say they know a thing or two about riding apparel. Made for riders, by riders.
Also:
Terry Bicycles Women's Cycling Jackets & Vests >>


Safeguard it all. Even your banana.


Updated for 2023:
First Aid Triage Kit >>
Uncharted Supply Company was founded to prepare any adventurer for unexpected survival situations. Their mission is to prepare people for any adventure, big or small, so they can stay safe and keep exploring.
Combine with:
Lezyne M-Caddy C02 Repair Kit >> 
The Lezyne M-Caddy C02 Repair Kit includes an M-Caddy Saddle Bag and everything that should be inside of it to send you on your way.
Also:
Protective Banana Case >>


Speaking of Protection. 

Updated for 2023:
ABUS Bordo Granit X-Plus 6500 >>
Rule #1: Don't let your ebike out of your sight.
Rule #2: If you have to leave it, lock it up tight and lock it up twice!
• 5 mm bars with extra-soft two-component casing to prevent damage to paintwork
• Colour-coordinated soft-touch silicone cover for the lock body
• ABUS Link Protection Shield for a high level of protection against hinge sawing
• ABUS XPlus cylinder for extremely high protection against manipulation, e.g. picking
• ABUS Security level: 15
• Circumference: 110 cm (43.3 in) OR 85 cm (33.4 in)
Combine with:
Abus 440A Alarm U-Lock >>
Includes Alarm at a volume of at least 100 dB for 15 seconds, followed by automatic reactivation.
Also:
Abus Ultimate Combopack includes 420 STD 9 inch U-lock and USH and 140cm cable. >>

Register Your Ebike and Battery into Bike Index >>
Carry Things on Your Bike. Carry Things off Your Bike.

Updated for 2023:
Kulie Bike Bags >>
We. Love. These. Bike Bags.
Having obsessed over design, functionality, and organization, Kulie has somehow managed to engineer the right bag for the right occasion. Carry beer and wine and fruit and food easily so you can combine life activities as you bike. Make your bike commute to work so convenient, you don't have to think twice about leaving your car in the garage. No longer stuff your jacket pockets with your phone, fuel, and tech accessories - arriving sweaty and tired from carrying things on yourself. Elevate every bike ride!
Compare to:
PoCampo Bergen Pannier 2 >>
This bag was clearly designed with function in mind, with seven pockets, including a padded laptop pocket, water bottle storage, and shoulder strap options. And those magnetic buckles, it only takes seconds to take it on and off your bike! 
Also:
Everyman Hideout Pack >>

Updated for 2023:
Thule Yepp Maxi Child Seat >>
Don't forget the little ones, too! Finally enjoy a family bike ride, without wearing yourself out hauling those additional (up to) 40 lbs.
Compare to:
Burley D'Lite X Trailer For Child >>
Tow-behind combination kids bike trailer and stroller is built for the long-haul. Premium seat pads, headrests, and independently reclining seats built for two has a 100 lb. weight limit.
Also:
Thule Courier Pet Kit >>
 
What About the Ride Before Your Ride?
Have you thought about how you will get you and your ebike from point A to Point B, before you even start your ride?
Updated for 2023:
Hollywood Racks Sport Rider Ebike Hitch Rack >>
• Capacity: Two Bikes (Max 80 lb per bike)
• Hitch Size: 2" only (Do not use a 1.25"-2" hitch adapter)
• Maximum bike wheelbase: 60"
• Features extra heavy duty wheel holders, an internally reinforced frame and external brace for heavy load carrying capacity
• Includes keyed alike locking hitch pin, 8' security cable and locking frame hooks
• Patented "No-Wobble Hitch System" eliminates slack between the receiver and the rack without the use of tools
• Folds flat against car when not in use
• Tilts down for easy cargo door access
https://www.radpowerbikes.com/collections/accessories/products/hollywood-racks-ebike-hitch-rack
Compare to: 
Hollywood Racks - Destination E for Electric Bikes >>
Can carry up to two 70 lb. electric bikes or standard bikes. Includes an expandable, wide aluminum ramp so you can load and unload your bikes easily.
Also:
WeatherTech EasyRamp - Heavy-duty Pet Ramp for Trucks and SUVs >> 


View our complete list of Ebike Hitch Racks >>


You Bought it, Don't Break It.

Updated for 2023:
Park Tool SK-4 Home Mechanic Starter Kit >>

Tackle that routine maintenance in between visits to your local bike shop for some of the more complicated bike repairs. Park Tools is a trusted brand and this is a great starter kit.
Combine with:
Foundation Bike Repair Stand >> 
A solid choice for the home mechanic who likes to do their own maintenance and repairs.
Also:
Muc-Off Ultimate Bicycle Cleaning Kit >>


Now, Get on Your Bikes and Ride! but not Naked, of Course.
Updated for 2023:
Ebike-escapes Merch>>
Everyone raves about our logo! Now you can express your desire to escape on your ebike with our very own custom riding shirts from BurpeeBod.
Combine with:
LIVSN Flex Canvas Shorts and Pants >>
Versatile, well-made clothing for people who want to own less and live more. 
Also:
Club Ride Apparel >>

The Ultimate Accessory for an Ebike Lifestyle:

231 EA Retro Bunkhouse Travel Trailer >>
Our other Ellie aka: Eleanor
Read the true-to-life story of why we fell in love with this Bunkhouse Retro Travel Trailer...


Book Your Ebike Test Ride Consultation Today >>
Ebike-escapes utilizes the Full Service Affiliate Program Management from AvantLink. This website contains affiliate links to products from various Merchants, and we may receive a commission for purchases made through these links. AvantLink's approach to affiliate marketing is simple: grow your business through quality partnerships.
Find out how to become an AvantLink Merchant today!