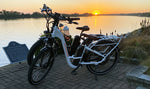 Why I Cheat: True Stories From the Road.
That first time you're caught cheating can be a bit infuriating but at the same time, also exhilarating. These *actual cheaters share their stories of why they cheat, and how rewarding it can be.
*No names have been changed, because we LOVE it! 
Julie -
"Well, I finally got called a cheater by my neighbor. I asked him who I was cheating. He said, 'you're cheating yourself by not getting any exercise.' I thought that was pretty darn funny and his wife was super pissed at him saying that to me. Lol! I told him that my bike wasn't getting anywhere unless I pedaled it; that I had lost weight; was taken off a med cause I'm in better shape and I get out and ride almost every day. His wife wants one. He slinked off with his beer belly."
David - 
"I'm a senior with bad knees. If it weren't for ebikes, I wouldn't be out on the trail. I guess some folks would rather see us seniors sitting on the porch in a rocker. Not for us Rad folk."
Five reasons riding an ebike isn't cheating >>
Jane -
"We rode our bikes to a Wounded Warrior Ride welcome in the Keys. As we rode up, an older lady in bike pants loudly says one word: 'cheater'. First time experiencing it. I approached her later and asked if she has ever ridden one. She admitted no. Then I asked what's better; sitting on the sofa or riding an ebike. I think she is now educated."
Nathan -
"We just got told yesterday that we are cheating by our mail lady!"
"I laugh for the most part but shake my head in ways too because I think people are truly missing the point. Even if someone is on an electric scooter and not doing a thing, they are still outside doing something!"
"I don't consider myself on the older side at 41 just yet and my wife certainly isn't being the younger of us. That being said I've had a rich career as a firefighter and have had 5 knee surgeries between the two sides, a shoulder surgery, and am awaiting another surgery now for my left. I run 5-10 miles a week, ride 40-60 miles on a stationary bike and am in better shape than I've been in a long time.
So when I go out with my wife and our 4 kids for our family rides I soak up my ability to cruise, get a little PAS, or even the cheap thrill of using the throttle. It's our time. I don't need to worry about getting a sweat induced workout because I know I get plenty of those in my weeks, this is just my time, family time."
"So ride on I say and let's just encourage people to remember it's about being active, being outside, not how much or how hard you pedal."
Nancy -
"I was an avid road cyclist from age 40-55. At 55 I got my 1st cancer. I found I couldn't keep up with my friends anymore. I rode occasionally but ended up giving my road bike to a friend. I got my 2nd cancer 4 yrs ago. 2 cancers in 6 yrs. I just didn't trust being able to go the distance or handle hills so I had given up riding. After getting my RAD, I'm back in the saddle again and loving it."
Brian - 
"Got the 'you're cheating' again today, from a pretty good distance away, and I yelled back, 'not cheating'...the guy then drove his van all the way up to me, and pulled right along side me and said through his window 'how is that not cheating?' I explained that I recently had knee surgery and if not for this bike I wouldn't ride at all...and he chilled out, but really, why do people care so much that they feel the need to try to ridicule you? Even if I didn't have knee surgery, I should be able to ride my rad guilt free, and without being harassed."
Try Our Ebike Battery Calculator >>
Deborah - 
"Husband and I, 66 and 72 recently got our Rads and just hit 100 mi. For the first time yesterday someone yelled 'cheater', we both laughed and yelled back, 'Hell ya!' Beyond caring what anyone thinks, we love having power assist....so much more fun than sitting home!"
Rick -
"At a coffee stand near a bike trail in Washington near a small town called Buckley, I heard a young man, in his spandex, mention to another chap that he thought using an ebike was cheating. He belabored the point just enough that I was a little ticked off. Finally I looked at him and said, 'I have a question for you'. How many hip replacements have you had, I have had 1. Before he could answer I asked him how many knee surgeries he has had, again, before he could answer I said 2. I then asked him if he had ever experienced the pain of arthritis, because I do daily. I also told him that 16 years ago I was diagnosed with chronic lymphocytic leukemia, have had three rounds of chemo therapy and take medication daily to control it. I then asked him how old he was. By this time he was becoming a little more humble and he said he was 39. I told him that this year I will be 70 and that when he reaches my age I hope he is still healthy and the way I see it, the only thing I have been cheating is death and my Ebike was helping me do it. I walked out, got on my bike, and quickly rode away. Man, the rest of the ride felt great!!!!"
Try Our Ebike Recommendation Guide >>
Karen - 
"Peripheral neuropathy (non diabetic, both feet), 2 replacement knees, severe lower spine arthritis...I could go on. I have days where all I do is use the throttle. I consider pedaling a treat. That we are on bikes again is so much fun and makes me so happy—-no one will bother me if they call me a cheater (got them in July and no one has to me yet, but they have to my husband.)"
 Jeff - 
"I was riding my Radwagon on a bike trail the other day when I came upon what was clearly an avid bicyclist. She had a $2,500.00 bike and professional gear. I politely rang my Rad bell and kindly informed her ... 'On your left'. As I passed her she curtly said to me ... 'What you are doing is called cheating'."
"I'm not proud of it, but my first inclination was to quickly cut in front of her and slam on my brakes and yell 'SNAKE!' as I would watch her divert off of trail into the thick trees."
"I wanted her to know that before I got my Rad Bike that I was having to go into therapy to ride a stationary bike to build the muscle around my broken back, but now that I have the freedom to ride out on the open road I am riding longer and stronger, giving up the costly physical therapy sessions for freedom. I wanted her to know that my Chiropractor is doing summersaults because he is seeing the change in my back strength."
"I wanted to tell her that I belong to a Rad Group on Facebook where senior citizens are able to gain freedom from their lounge chairs because of these peddle assist bikes. That these grandparents are able to ride with their grandchildren instead of watching them from the front porch." 
"I wanted to tell her that these electric bikes have brought growing families together as young parents are able to take their children on outings that allow the children to view and explore the world without a car roof or a computer game in their face." 
"I wanted to tell her that I have rode my bike on short errands, something that I would have used my fossil fueled vehicle to carry me before."
"I wanted to ask her why she thought I was cheating ... Did I stumble onto some bike race? If so I didn't ever find the finish line." 
"Was I racing her? No, I wanted to get away from the crazy woman who thought she should interject her uninformed opinion on a complete stranger, ... doesn't she know how crazy people are today?" 
"Did she have any idea what my mind had conceived in that moment?
Who exactly was I cheating? I am in better health, so I know I am not cheating myself."
"My dog has become the best coach ever, she demands that I get on my bike and whisk her off to see and smell new things, she pouts on the days when I don't, so even when I am not motivated she coaxes me into a quick ride that turns into at least a ten mile ride, my senior dog loves these rides so am I cheating her?"
"So I wanted to inform her of these thoughts that I had in that split second decision, but instead of wasting my time on someone who doesn't want to understand I decided to just whiz passed her never to hear her gripe at me again."
As the already lengthy list of cheaters we're encountering in our travels continues to grow, it's becoming clear we're experiencing an epidemic of Rad proportions. It doesn't matter what others think, getting outside and experiencing the benefits of an electric bicycle are quickly becoming an acceptable habit that anyone can enjoy. Rent one today, and see what all the fuss is about.
Get out and ride - it's worth the cheat!
Special thanks to Julie, David, Jane, Nathan, Nancy, Brian, Deborah, Rick, Karen, Jeff and the countless others that have shared their stories of cheating with us!
Book Your Ebike Test Ride Consultation Today >>